Utilizamos Crowdin para traducir Plume, el sitio web joinplu.me y la documentación. Todo el texto original está en inglés, así que necesitarás entenderlo, y para tener fluidez en otro idioma para ayudarnos con la traducción.
Crear una cuenta en Crowdin
Para traducir Plume y los proyectos relacionados, el primer paso es crear una cuenta de Crowdin (a menos que ya tengas una).
Puede registrarse aquí. Sólo le pedirá la información típica de registro. You can also sign in with an account from other platforms if you want (GitHub for instance).
Únete a uno de los proyectos de Plume
Todas las cadenas que necesitan ser traducidas pueden encontrarse en uno de estos proyectos:
Una de estas páginas encontrará una lista de idiomas. Seleccione el que quiere traducir.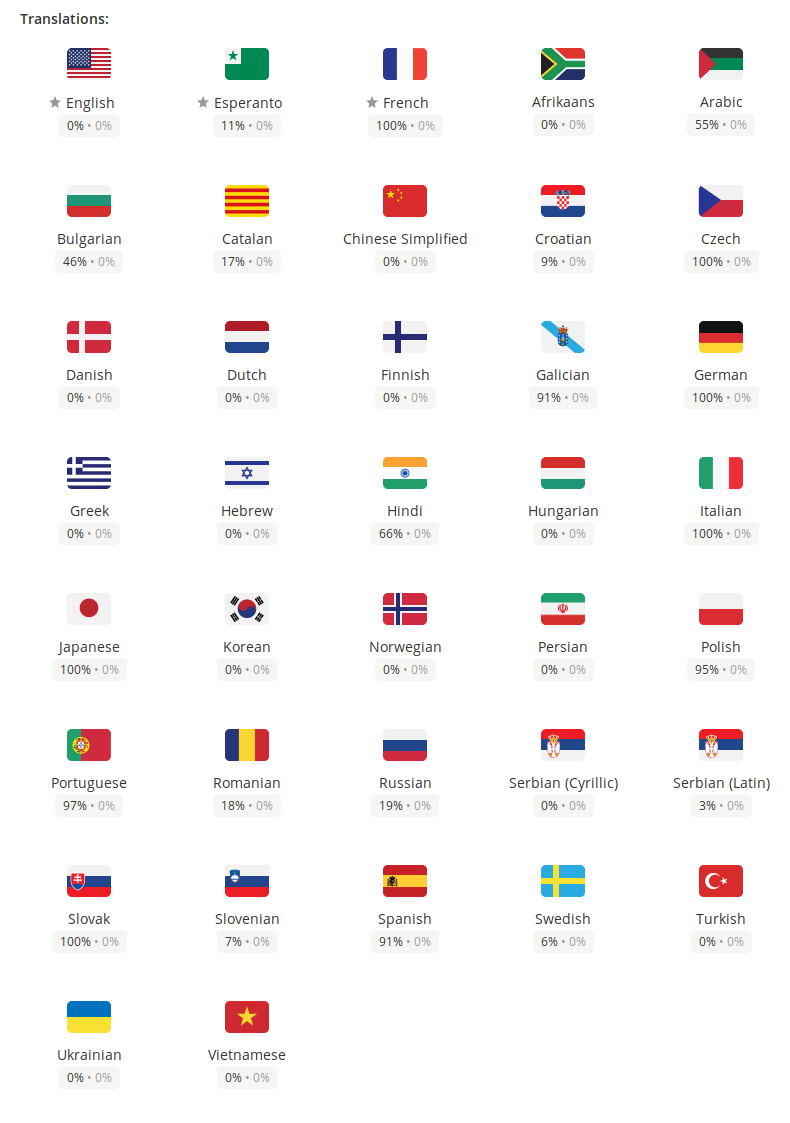 Si tu idioma no está en la lista, díganos, lo agregaremos.
Una vez que haya seleccionado un idioma, verá una lista de archivos a traducir. Encuentra uno que no esté 100% completo, y ábrelo. Algo así debería cargar: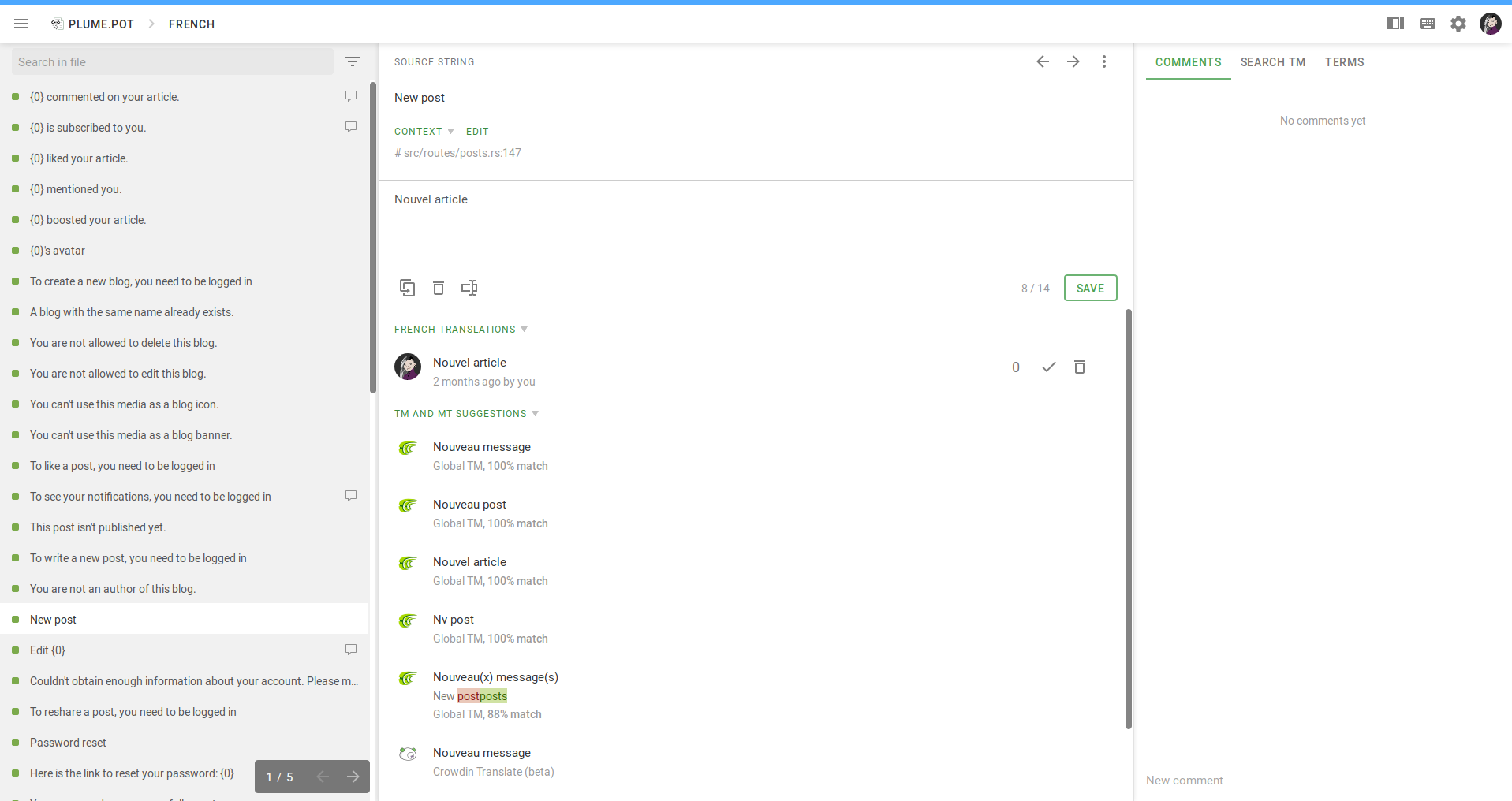 Que se vea como se ve aquí.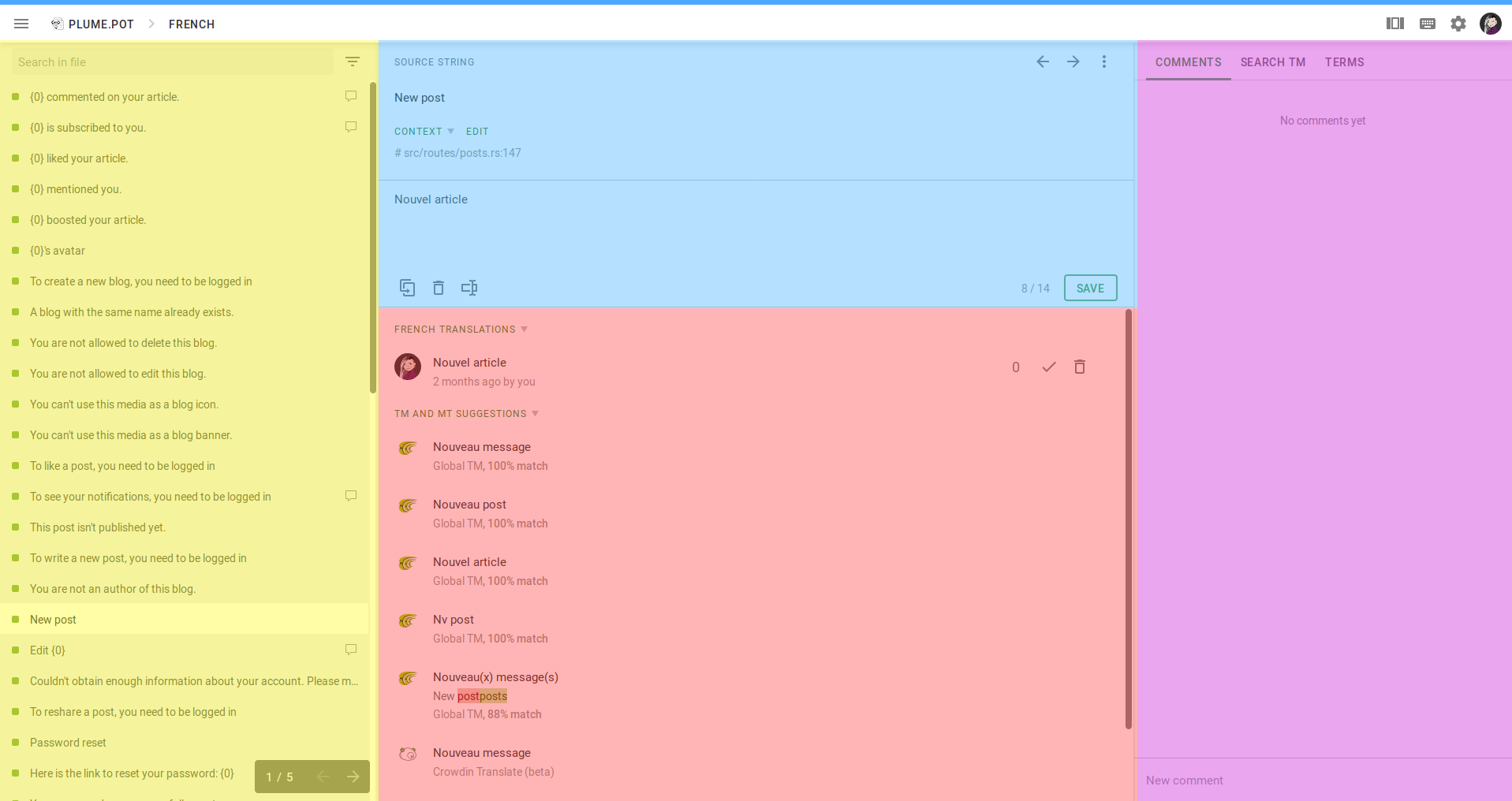 En amarillo (barra lateral izquierda), tiene la lista de cadenas a traducir. Los que tienen un cuadrado verde ya están traducidos, los que están en rojo todavía están por hacer.
In blue (middle-top area), you have the actual editor, with on the top the original string, and under it, the box where you write translations. A veces, se dará algún contexto junto a la cadena original. Y hay un botón para guardar tus traducciones también (puedes hacer Ctrl/+Enter para guardar sin dejar tu teclado también).
En rojo (área media-abajo), tienes sugerencias anteriores hechas por otras personas, y traducciones sugeridas por varios servicios de traducción. A veces pueden ser útiles, pero la mayoría de las veces , las traducciones humanas son mejores.
Y finalmente, en la barra lateral derecha (púrpura), tiene un área donde puede dejar comentarios o hacer preguntas. Por ejemplo, si necesita más contexto sobre una cadena, puede preguntar aquí. We will try to answer you as fast as possible, but we are not working full-time on Plume, so don't worry if you don't get a reply in 5 minutes.
In-context translations
Crowdin también proporciona una herramienta bastante útil, llamada "traducciones contextuales". Le permite traducir el sitio web mientras los navega, y así tener todo el contexto para entender lo que hay que hacer.
We installed this tool for the documentation and joinplu.me (we may install it for Plume too one day, but it is a bit more complicated). You can go on translate.docs.joinplu.me and translate.joinplu.me to use it.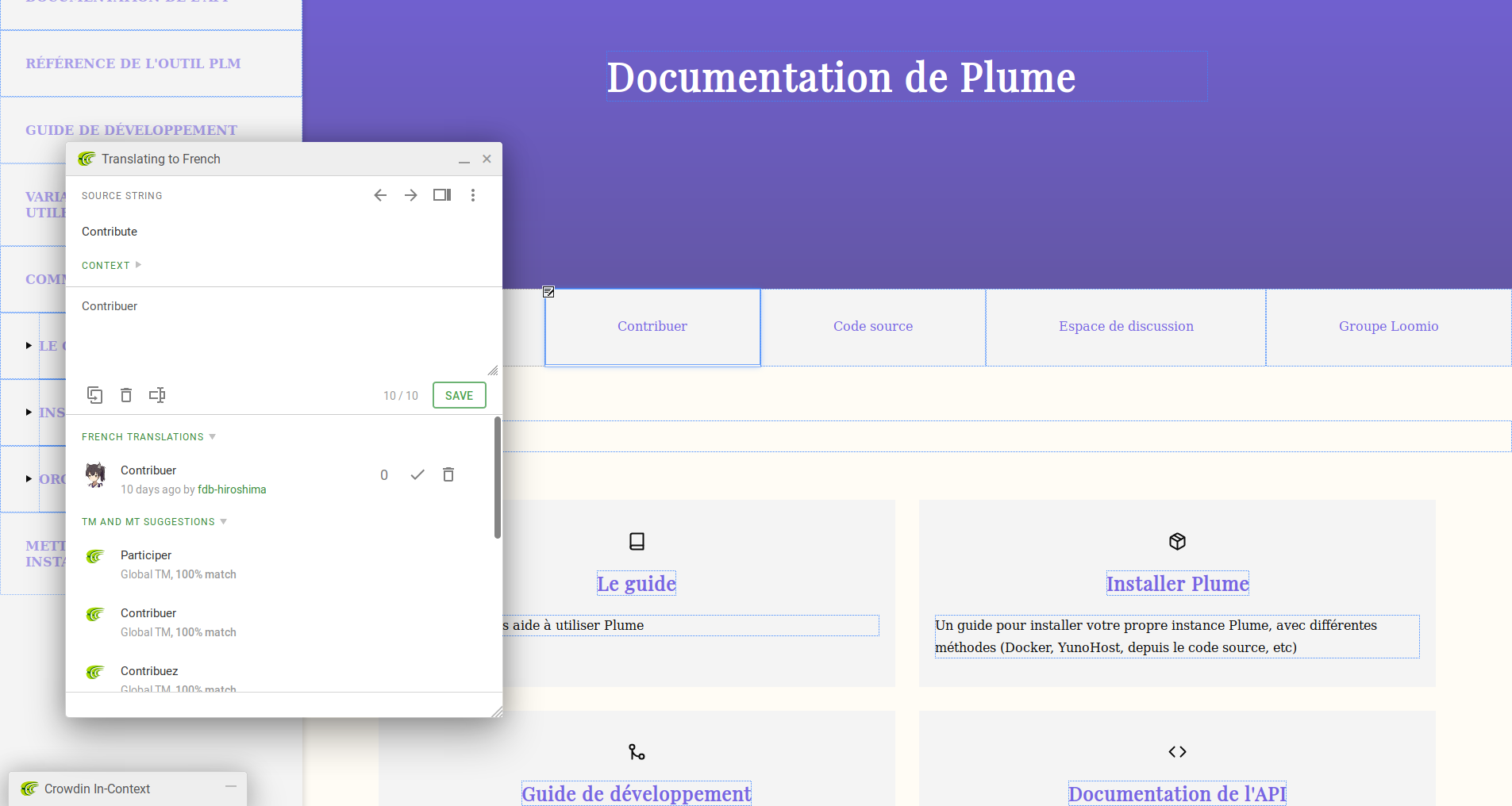 Recommendations
When translating Plume (and related projects), please try to follow these rules:
Be as inclusive as possible: if your langage has a form of inclusive writing, use it. The style of inclusive that is choosen is not very important (just try to keep coherent with what is already done).
Don't be too formal (but stay polite!).
Translation guides
---
That's it, you know everything you need to translate Plume! Thank you for your help!